YUAN is proud to announce that our new SDVoE product line is now officially in the stage of mass production. Stability of Output volume and production schedule of SDVoE products can be further ensured and assist customers in demands to quickly obtain software and hardware to promote new SDVoE products in their respective markets.
SC710N1-L SDVoE offers 1ch SDVoE 4Kp60 video capturing and 1ch HDMI2.0 4Kp60 loop-through. SC710N1-L SDVoE comes in low profile dimension, and its fanless design has made it a suitable choice for environments that demands quietness.
Video Converters
Multi to SDVoE Pro 4K
(4K Tx)
Multi to SDVoE Pro 4K supports the conversion of video signals, such as HDMI2.0, DP-MST, DVI-DL, and 12G-SDI to SDVoE, 12G-SDI and HDMI2.0. Users are able to easily operate the device even in dark places with additional screen and control dial.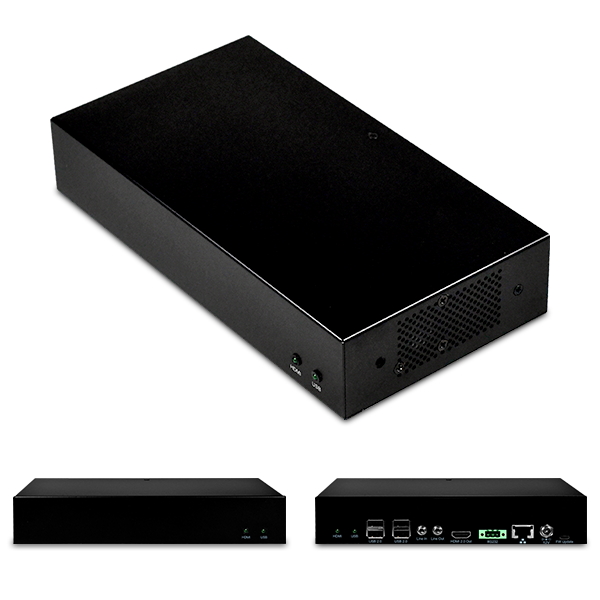 SDVoE to HDMI2.0-S Pro 4K
(4K Rx)
SDVoE to HDMI2.0-S Pro 4K converts SDVoE to HDMI2.0, RS232 control interface is supported with four in-built USB2.0 ports for connections with keyboard, mouse and USB flash drive.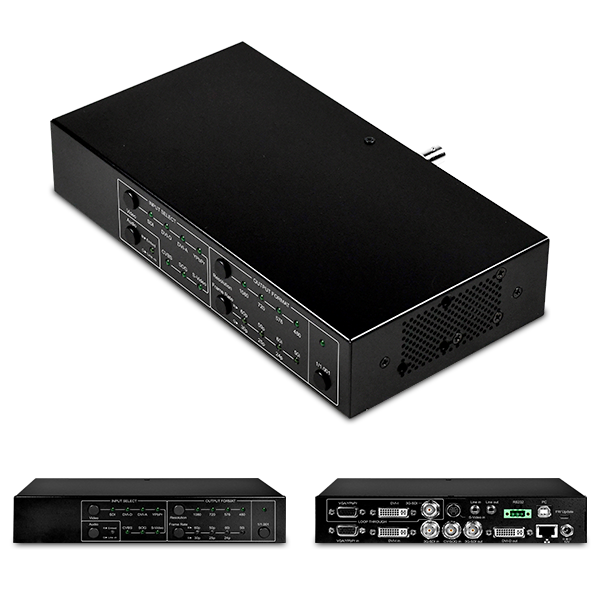 Multi to SDVoE-S Pro
(HD Tx)
Multi to SDVoE-S Pro assists users to convert DVI-I, Composite, S-Video and Component signal to 3G-SDI and SDVoE. The device is equipped with RS232 for remote control, while buttons at the front panel provides users a local control interface.
SDVoE is an Ethernet-based technology of video transmission and therefore a suitable solution for 4K digital signage, convention center, transmission of medical/operation footages or video conference etc. Field applications for SDVoE are diverse and compatible with existing network infrastructure.
Applications of SDVoE Products
Video Multiviewer
Advantages of SDVoE as video multiviewer:
Fast Seamless Switching
Quad View
PIP
Diversified display modes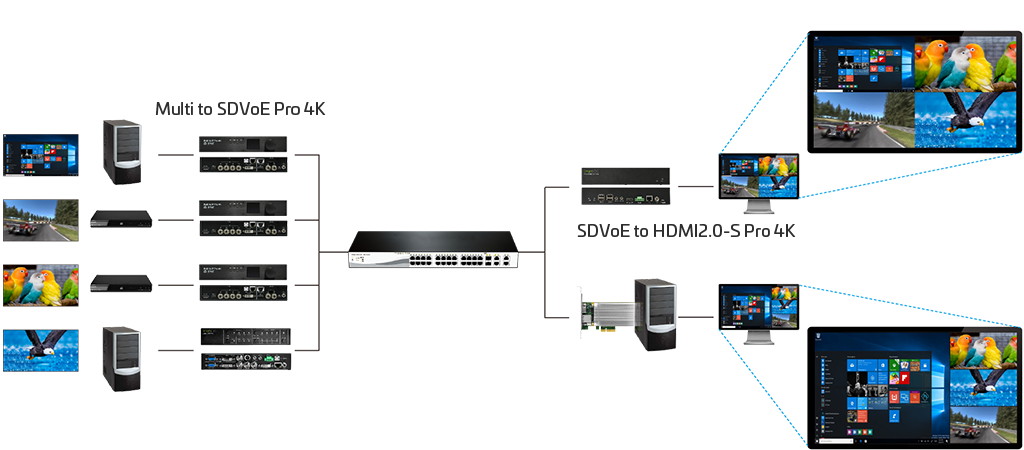 ---
Digital Signage and Video Wall
Advantages of SDVoE applied in digital signage and video wall:
Max. 64chs Multiview
Bezel Correction
Video Synchronization
Video Zoom In & Out
Video Splitting
---
KVM
Advantages of SDVoE applied in KVM:
Fast Seamless Switching
USB 2.0 Bi-directional Transmission
Bi-directional RS232 Transmission
Bi-directional Transmission of Audio